2021-22 BOYS BASKETBALL PRACTICE TIMES 12/20-12/31/21
12/20/21- @ NBHS; 3:45; 5:15; 6:45pm 
2:15pm Freshman Bus; 4:00pm JV/Varsity Bus
12/21/21- vs MLC; 5:15; 6:45pm 
JV and Varsity Games ONLY. No Freshman game vs MLC. 
12/22/21- 4:45-7:00pm (4:15pm TEAM PICTURE DAY. Wear your home uniforms)
12/23/21- vs EO Smith; 3:45; 5:15; 6:45pm 
12/24/21- 8:00-10:00am
12/25/21- Merry Christmas and Happy Holidays- NO PRACTICE
12/26/21- NO PRACTICE
12/27/21- 10:00-12:00 
12/28/21- 10:00-12:00
12/29/21- 8:00-10:00
12/30/21- 10:00-11:00am; Game @ AAE
JV game 12:00pm; Varsity Game 1:30pm
11:00am BUS TO AAE
NO FRESHMAN GAME vs AAE
12/31/21- 10:00-12:00
1/1/22- HAPPY NEW YEAR- NO PRACTICE
Go and meet with your teachers during eagle block this week and improve your current Q2 grades. 
Hold each other accountable within the school community. 
FAMILY 
KEVIN ZALUCKI - HEAD COACH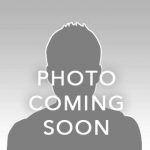 [email protected]
Coach Zalucki grew up in Enfield, CT. He played high school basketball at Enrico Fermi and East Catholic High School from 1999-2003. Coach Zalucki continued his education and basketball career in college at Eastern Connecticut State University where he graduated in 2008, with a Bachelors Degree of Science in Physical Education and Health. He continued his education earning his masters degree from Central Connecticut State University with a degree in Educational Leadership in Spring 2012. Coach Zalucki started his coaching career at Farmington high school as a volunteer assistant on boys' basketball for the 2008-09 season. He was hired as JV coach at Enfield High School in 2009 where he severed as a JV from 2009-2013. He took over the Enfield varsity basketball program in 2013. Coach Zalucki works as a teacher at CREC Civic Leadership High School as a PE and Health Teacher. He resides in Ellington with his wife Shannon and their two children, Brooklyn and Boston.  
DARREN GODDARD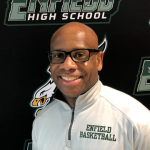 [email protected]
Coach Goddard grew up in Hartford, CT. He attended Manchester High School and was a standout player and captain. He began his coaching career under Robert Healy at Manchester High School. After starting a family, he returned to coaching with the Enfield Recreation Department's youth program and served as President of Enfield Travel Basketball. He also has experience coaching at the AAU level. He was hired as the EHS JV coach in 2019 and is eager to start his third season. Darren is employed by The Hartford and resides in Enfield with his wife Stephanie and their three children, Andrew, Maya and Grace.
EVAN WALKWITZ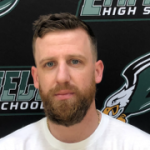 [email protected]
Coach Walkwitz grew up in West Springfield MA. He attended West Side High School and was pivotal in their Western Mass championship run in 2009. Coach Walkwitz attended STCC where he continued his basketball career. He graduated from Springfield College with a Bachelors Degree of Science in Physical Education and Health in 2013. He was a PE teacher at Ludlowe High School before transitioning to his current position as an underwriter for mortgages at Moves Mortgage in Agawam, MA. Coach Walkwitz resides in Springfield, MA.