FIRST WEEK SCHEDULE
All practices and meets are held at the Enfield Annex (former Fermi High School) located at 124 North Maple Street in Enfield.
First Practice:  Monday, August 28, 2023 from 3:00 pm to 5:00 pm
Practices generally take place Monday-Friday from 3:00-5:00 with a few exceptions.
DEBBIE GOODMAN - HEAD COACH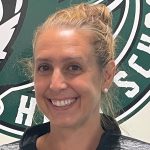 [email protected]
Coach Goodman is in her 6th year as head coach of girls swimming.  She is a graduate of Fermi High School and the University of Connecticut where she was on the swim team.  She holds a master's degree in sport and exercise psychology and just completed a certificate in sports counseling and student athlete mental wellness.   
DEVON ALOISA - ASSISTANT COACH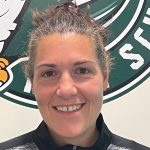 [email protected]
A life-long resident of Enfield, Coach Aloisa grew up swimming for the Enfield Dolphins & Fermi swim teams, continuing her swimming career at Saint Michael's College. She's been teaching in Enfield for almost 20 years and has been assistant swim coach since 2017.